EMAIL EXCHANGE WITH UK MHRA - Exposing the genomic sequence of SARSCov2
Frances Leader

This is the killer blow. What been said all along. No more than these 2 links are needed to prove what's been said all along. Anyone who can see this and then still believe in the covid pandemic will be complicit in evil and involve many major sins. May Allah forgive you.



Quote:

When I read the Wuhan study in Feb 2020 I was mortified by the monkey kidney & foetal cell-lines which were used as a "culture" before rt-PCR amplification. Isolation was never satisfactory at any stage thereafter.

I honestly felt sick.

The genome sequence was computed from this.

I set about proving that the vaccine has been created from a

computer generated genomic sequence

& not one isolated from an infected person, either in Wuhan or anywhere else in the world since.

The Pfizer BioNTech vaccine was approved by UK MHRA (Medicines and Healthcare products Regulatory Agency) & I initiated a polite exchange of emails with them as follows: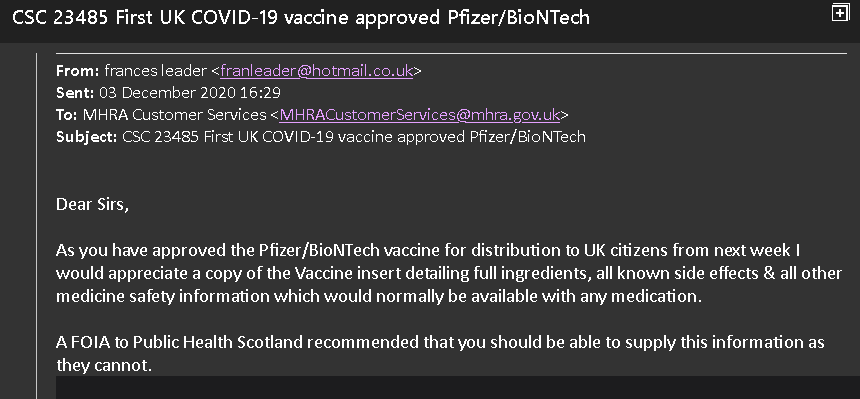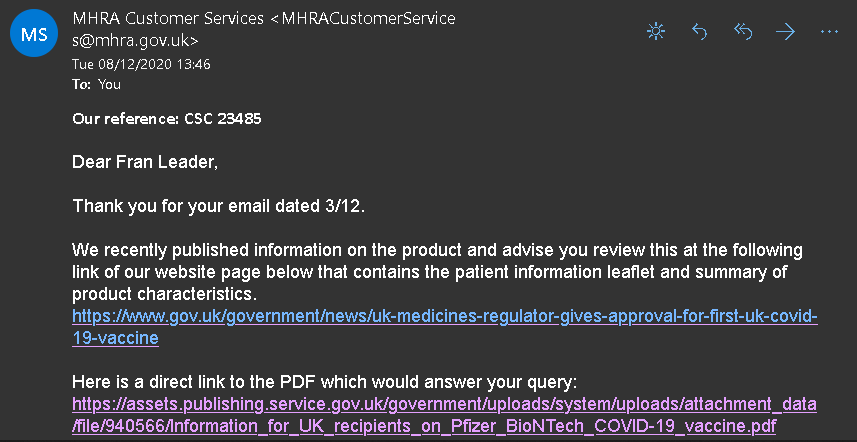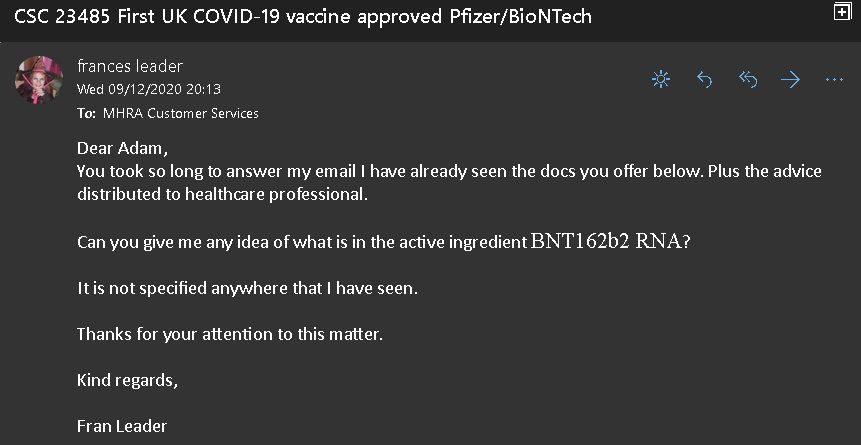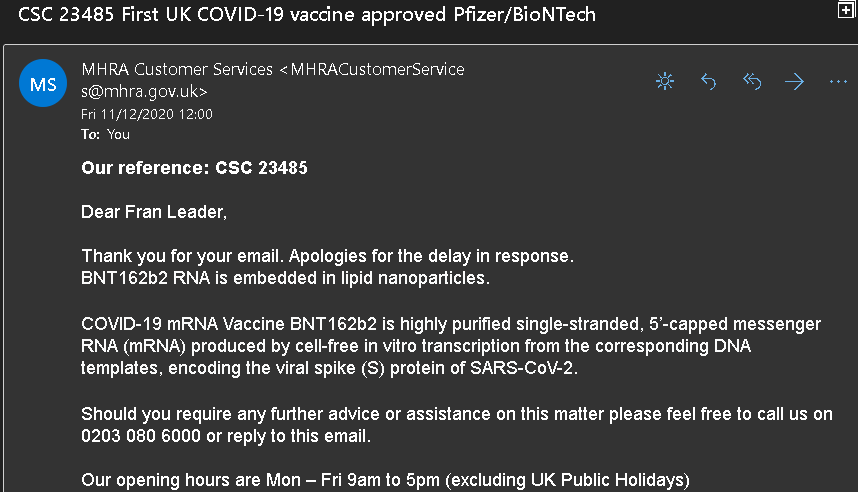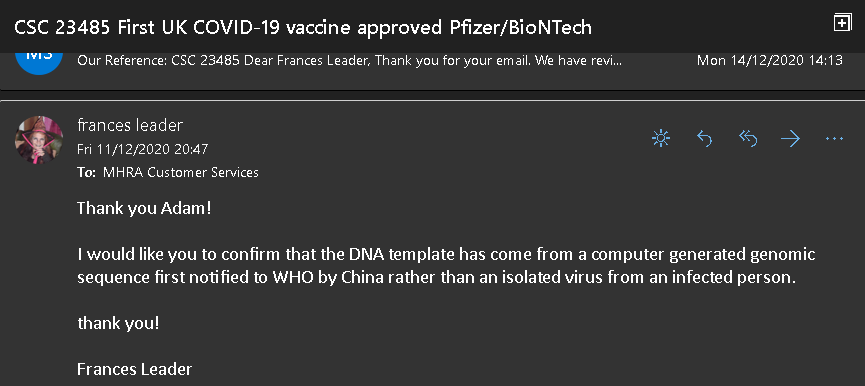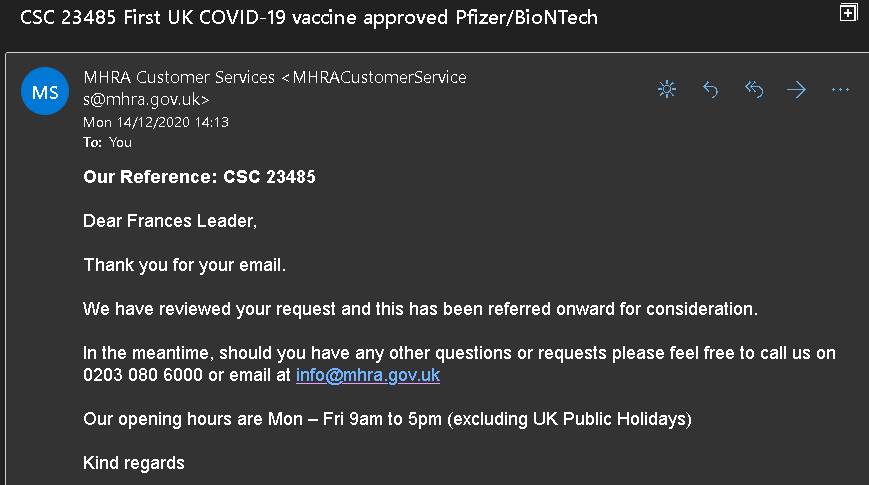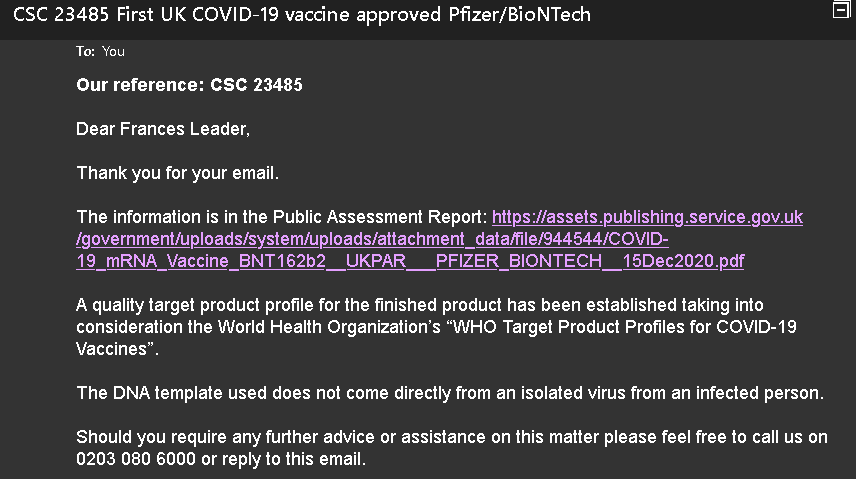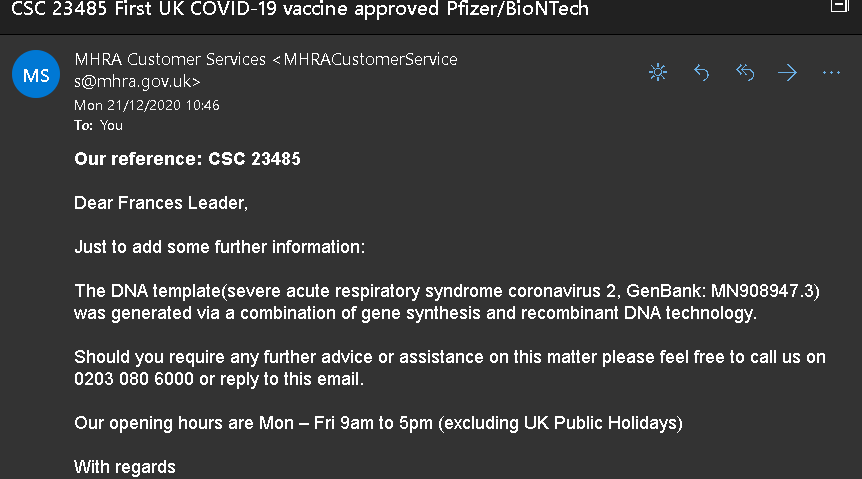 Twitter post yesterday & my account was summarily suspended:







Quote:

WITHOUT A PURIFIED SAMPLE VIRUS UK MHRA CONFESSES THAT THE PFIZER VACCINE mRNA ELEMENT IS A COMPUTER GENERATED GENOMIC SEQUENCE AMPLIFIED FROM A RNA FRAGMENT FOUND IN ONE EXPERIMENTAL STUDY FROM WUHAN (Feb 2020).

NO SIMILAR VIRUS HAS BEEN ISOLATED ANYWHERE IN THE WORLD SINCE.

THE VACCINES ARE CREATED USING A COMPUTER MODEL!

AFTER NEIL FERGUSON'S CATASTROPHIC COMPUTER MODEL TOOK THE WORLD INTO A SPIRAL OF LOCKDOWNS, MASKS & ABJECT FEAR - HOW MUCH FAITH HAVE YOU GOT IN A COMPUTER CREATED "VIRAL" SPIKE PROTEIN BEING

INJECTED INTO YOUR BLOODSTREAM

?

Several followers asked for sight of the original exchange of emails & as

twitter suspended me over this

revelation I decided to create this article which, being on the blockchain, is safe from deletion.

Thanks to all followers on all social media channels for disseminating my work.

Much love as ever

Fran

xx



This is blow: "The DNA template used does not come directly from an isolated visus from an infected person."

He posted his email exchanges and Twitter suspended him. Do you believe the misinformation censoring campaign now?

Furthermore, it's not just these exchanges. 165 health/science institutions globally all failed to cite even 1 record of "SARS-COV-2" purification, by anyone, anywhere, ever



Quote:

165 institutions

(mainly health and science institutions) in

30 countries

have all failed to provide or cite even 1 record describing the alleged "SARS-COV-2" having been found in any sick human and purified, in order to sequence and characterize "it" and study "it" with controlled experiments.

In other words, none of these institutions can prove that the alleged RNA genome of 30,000 base pairs with a spikey protein shell actually exists…. let alone that "it" causes an allegedly new respiratory disease that is allegedly spread from host to host via contagion.

No one on the planet has a pure sample of the alleged virus.

There are no validated tests. Validation of a test for a "virus" would require a gold standard – the alleged virus.

Below is a list of the institutions. Note that from several of these institutions (i.e. the CDC, Public Health England, UK DHSC, India's ICMR) we have multiple responses.

Excel file listing the 164 institutions

(last updated January 15, 2022):

www.fluoridefreepeel.ca/wp-content/uploads/2022/01/Instit... Click this link to see the actual responses: www.fluoridefreepeel.ca/fois-reveal-that-health-science-i...



www.fluoridefreepeel.ca/68-health-science-institutions-gl...

This is being posted in the Hoax category because for me it's definitive proof of the clearly planned war on the population. If anyone can challenge this and prove covid exists scientifically and not due to "feelings" please do share so the thread can be moved from the verified Hoax category.