P:15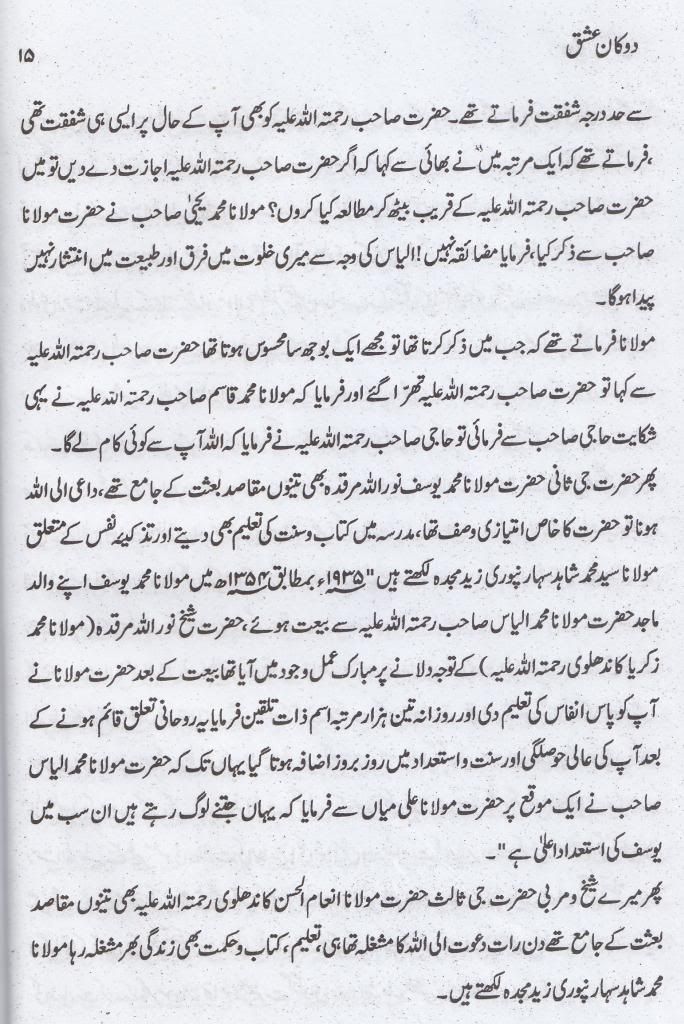 Maulana would narrate that whenever he engaged in zikr.. he felt a burden upon himself. When he mentioned the same to Hazrat sahab he was shocked and said that Maulana Muhammed Qasim sahab رحمة الله عليه had complained the same to Hazrat Haji sahab رحمة الله عليه and He had replied that Allah سبحانه وتعالى shall accept some task from you.

Thereafter the second Hazratji , Hazrat Maulana Muhammed Yousuf sahab رحمة الله عليه also carried the three objectives of Apostleship with unison. Hazrat's special distinction was being a Da'ee ila'Allah apart from imparting the knowledge of Kitab and sunnah at the Madrassah. with regards to Tazkiyah Nafs , Maulana Syed Muhammed Shahid Saharanpuri (db) writes that :

"In the year 1935 AD/ 1354H Maulana Muhammed Yousuf رحمة الله عليه made bayat at the hands of his father Hazrat Maulana Muhammed Ilyas sahab رحمة الله عليه , and this blessed practice manifested at the deliberation of Hazrat Shaikhul Hadith Maulana Muhammed Zakariyya kandhelwi رحمة الله عليه.

After bayat, Hazrat Maulana taught him the Zikr of Paas Anfas, and advised him to recite 3,000 times of Zikr Isme Zaat (Allah). After this spiritual connection, his determination, fortitude and attachment to sunnah augmented by the day.

Such that at one instance Hazratji Maulana Ilyas sahab رحمة الله عليه apprised Hazrat Maulana Syed Abul Hasan Ali Nadwi رحمة الله عليه :

"Amongst the people residing here.. Yousuf bears a high potential"

Later on My shaikh and Murabbi, the second Hazratji, Maulana Inamul Hasan Kandhelwi رحمة الله عليه was also a conglomerate of the three objectives of Apostleship. Day and night..he was engrossed in Dawah ila'Allah. Taleem, imparting of Kitab and Hikmah was also a life long attachment.