السلام عليكم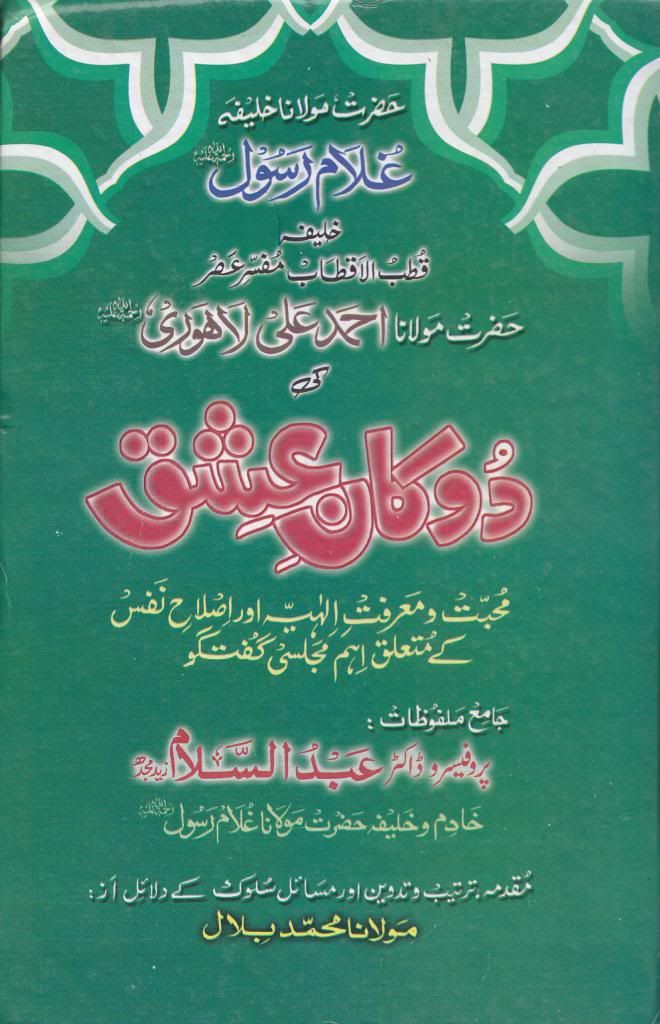 After Hamd and salaat.. and before beginning the work of Translating (read interpretation) from the Precious Malfuzaat of Hazrat Maulana Khaleefa Ghulam Rasool sahab رحمة الله عليه from the above book Dukaan e Ishq written by Hazrat Dr Abdus salam sahab db and compiled by Hazrat Maulana Usman sahab Madani db .. I send Isaal e sawab of Surah Fatiha .. Surah Ikhlaas and Durood sharif thrice to Khatim un Nabiyeen Sayyidil Mursaleen .. Mahboob Rabbul Alameen our Beloved Prophet
.. all the Ambiya karam.. then Khulafa karam.. Hazrat Abubakr.. Hazrat Umar.. Hazrat Uthman and Hazrat Ali رضي الله عنهم.. and my mothers ummahatul Mu'mineen.. and Hazrat Fatima رضى الله عنها.. our Hazrat Imam Hasan and Hazrat Imam Hussain رضي الله عنهم .. the Ashra Mubashharat and all the Sahabah رضي الله عنهم .. Then Tabi'een.. Taba' Tabi'eeen..

Then Sultan ul Awliya Hazrat Shaikh Syed Abdul Qadir Jeelani رحمة الله عليه ... Sultan ul Hind Hazrat Khwaja Syed Moinuddin Chishti Ajmeri رحمة الله عليه.. Hazrat Khwaja Baqi Billah Naqshbandi رحمة الله عليه.. Hazrat Shaikh Syed Ahmed Kabeer Rifai رحمة الله عليه..and Hazrat Shaikh Shihabuddin Suharwardi رحمة الله عليه.. the Mashaikh of their silsila and the followers of these pious predecessors..

Then the Mashaikh who passed the lamp of Rushd and Hidayat through their chests from ages to the present day.. the Silsila of Shaikh ul Arab wal Ajam Hazrat Haji Imdadullah Muhajir Makki رحمة الله عليه. and My grand shaikhs Hazrat Maulana Syed Hussain Ahmed Madani رحمة الله عليه and Shaikh ul Hadith Hazrat Maulana Muhammed Zakariyya kandhelwi رحمة الله عليه.. my shaikh Hazrat Miyanji Abdur Rahman sahab db..Hazrat Shaikh Dr. Ali Malpa sahab db.. dearest Shaikh Omega sahab db.. my Parents.. Family.. Freinds and Sunniforum brothers and sisters..

The book Dukaan e Ishq was gifted to me by its compiler Hazrat Maulana Usman sahab Madani db .. about whom u can read in the thread A Trip to Holy lands..

So lets assemble in the Majlis of Hazrat Maulana Khalifa Ghulam Rasool sahab رحمة الله عليه and gain from his Precious Malfoozat (sayings).. and make dua that Allah subhanahu wa ta'ala gives Ikhlaas in our amaal.. Ameen..