Makkah will see big increase in malls
to meet pilgrim boom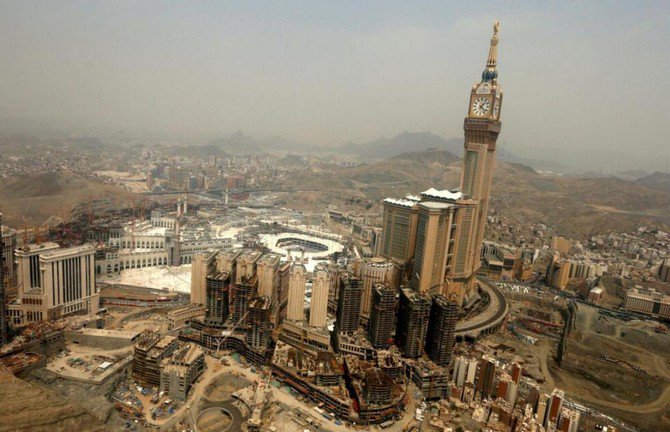 Makkah has a shopping mall supply of 140 sq m per 1,000 persons
— significantly lower than other primary cities.
September 18, 2018
DUBAI: The holy city of Makkah is set to see a sharp increase in the number of retail malls and outlets to cater for a projected boom of pilgrims making the annual Hajj. They are expected to increase by more than 200 percent by 2030.
Shopping mall supply is likely to increase from about 280,000 to 338,000 sq meters in 2020 and to 804,000 sq m by 2025 — a rise of almost 200 percent, according to new research published by real estate advisory firm Colliers International as Makkah looks to capitalize on the boom of international visitors over the next decade.
Imad Damrah, managing director of Colliers International KSA, said Makkah is going through a major strategic development phase to improve connectivity, increase capacity, and enhance the experience of Umrah and Hajj pilgrims throughout their stay. There are several strategic infrastructure and transportation projects, including the Holy Haram Expansion, Haramain High-Speed Railway, and King Abdulaziz International Airport.
However, the holy city's retail sector at present is "untapped" and offers huge potential for investors.
Makkah currently has a shopping mall supply of 140 sq m per 1,000 persons — significantly lower than other primary cities considering that the holy city received about 8.5 million international pilgrims in 2017 (6.8 million Umrah
pilgrims and 1.7 Hajj pilgrims). The city has much lower shopping mall density than neighboring Madinah, even though Makkah has a larger population base, a higher number of visits from international pilgrims, and shares similar demographic and income-level structure, said Damrah.
"Makkah's market is nascent and lagging behind, suggesting that there is either untapped potential for the development of shopping centers or market conditions are challenging to support supply growth," he told Arab News. "Tenant mix in the resident malls is mainly focused on fashion (51 percent), health & beauty (8 percent), and entertainment (12 percent). Limited new brand exposure, combined with the aging quality of existing entertainment and experience offerings in these malls, is one of the draws motivating Makkah's residents to shop and dine in Jeddah."
About 77 percent of Makkah's retail supply is fragmented, said Damrah, comprising traditional souqs and line shops, whereas showrooms and organized retail (i.e. shopping malls) account for the remaining 23 percent.
While there are challenges facing investment in Makkah — chiefly the shortage of suitable land plots, high land prices, high infrastructure cost given the holy city's mountainous topography, and an existing preference of residents to shop in Jeddah, coupled with the completion of major infrastructure projects and a projected rise in Makkah's population of 25 percent over the next 15 years — the holy city is prime for investment.
Developers and retailers are taking note, said Damrah, highlighting several key retail developments including the remaining phases of Jabal Omar, shopping malls within the King Abdul Aziz Road Development, Muzdifah Mall by Al-Hokair Group, and Abraj Kudai, a hotel currently under construction in Makkah.
The Colliers report highlighted that a third of visitors making the annual pilgrimage are domestic and GCC visitors with "high purchasing power."
However, it warned that future shopping developments needed to offer more diversity to compete with other cities in the Kingdom such as as Jeddah, King Abdullah Economic City and Madinah.
http://www.arabnews.com/node/1373691/business-economy