In the Name of Allah, the Most Gracious, the Most Merciful.
As-salāmu 'alaykum wa-rahmatullāhi wa-barakātuh
India does not have a central Moonsighting system.

In the past (due to absence of Media and slower communication), Indian Muslims were able to get away with disparities and errors.

In today's interconnected world, millions of Indian Muslims and their actions are in the glaring light of world Media.

The issue is a running joke in India (and abroad) and needs to be FIXED NOW! I have been asked to give my input and the simple suggestions are as follows:
STOP making suggestions that South India is a Horizon of Arabs, it makes no scientific or Islamic sense. Why would South India not belong to India? There is no Islamic or scientific reason for this, whatsoever.
DATA: Have the data for the whole of India at your fingertips so you know in advance where the Hilaal will be sighted and why there will be Jamm-e-Ghafeer sighting at certain location but not at others.
BRUNEI /AUSTRALIA/SRI LANKA: All 3 of these countries have a reliable 12 monthly Moonsighting system and they are ahead of time (in terms of time zone), if the Moon is sighted in these countries it is likely to be sighted in India. Keep abreast of the news and this will work as an early warning system for India when the Moon is sighted in these countries.
CONFERENCE CALL: Invest into a telephone conference calling system (it is cheap) and the various Hilal committees within India can dial in on the 29th and have a Mushwara about making a unified announcement.

Dhul-Qadah 1439 Data for India: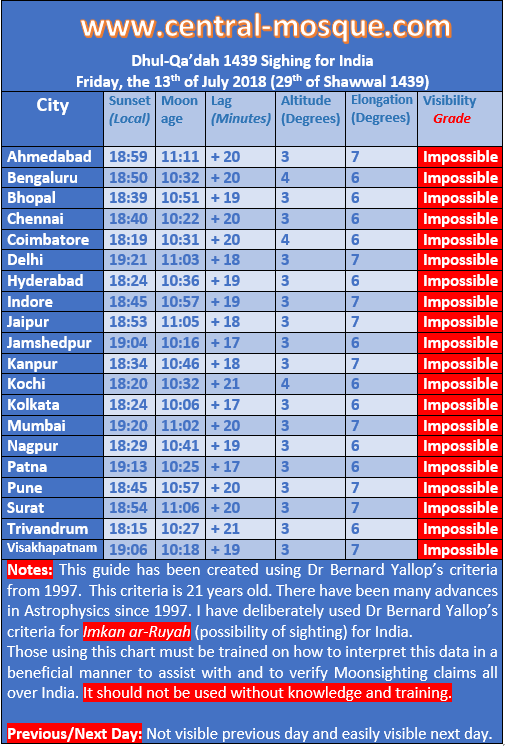 Dhul-Hijjah 1439 Data for India: