ummi taalib wrote:
View original post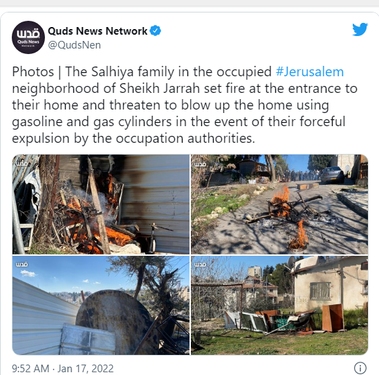 Occupied Jerusalem (QNN) - The Dutch government has called on Israeli occupation authorities to "immediately" stop its forced displacement of a Palestinian family from its house in Sheikh Jarrah neighbirhood in East Jerusalem.

"Ongoing attempt to evict a Palestinian family from their East Jerusalem home is contrary to international law and risks further escalation," tweeted, Hans Docter, the Dutch ambassador to 'Israel'.

The Dutch ambassador added, "calls on the Israeli authorities to stop the eviction immediately."

Source

The European Union: "[Israeli] evictions and demolitions are illegal under international law and significantly undermine the prospects for peace as well as fuel tensions on the ground."