Asslamo Allaikum Wa Rahmatullahi Wa Barakatuh,
Alhumdolillah, many Muslims around the world were relieved (and overjoyed) with the absence of moon sighting news from Saudia Arabia on Friday the 27th of June 2014. Experts around the world were pretty much unanimous that there wasn't any chance of moon sighting on that day in Saudia Arabia as indicated below: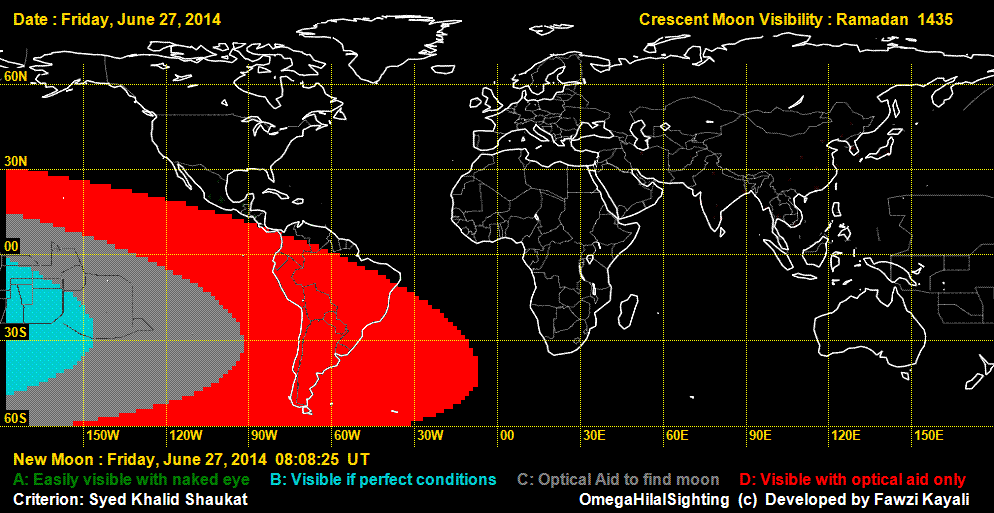 27th of June 2014 (Ramadhan update):
However, since moonset was a minute or two after sunset there was apprehension because Abdullah Ibn Muhammad Al Khudairi from Sudair (Saudia) who has sighted the moon numerous times in the past 10 years for his testimony to be accepted by Saudi judges. The official moon sighting teams (from Saudi Government) have been working in the same area for years and unable to verify or confirm the sightings.
One of the Members of the Official Hilal Committee in Riyadh accompanied Al-Khodairy (the usual witness), before Sunset on Friday and convinced him that there is no Hilal to be seen. Specially as the Sun had already disappeared behind dusty horizon well before sunset and so did the Moon. So on this occasion he could not come forward to give his witness statement.
27th of July 2014 (Eid update):
There is equally no chance of moon sighting on the 27th of July 2014 in Saudia but once again moonset is after sunset in many cities of Saudia.
So there is every chance that unless Allah (SWT) makes the horizon dusty (like Ramadhan) the fate of a unified Eid (in UK and others countries) will rest upon one man i.e. Abdullah Ibn Muhammad Al Khudairi!
The man defying science, experts, resources (man and equipment alike) with his impossible and improbable sightings is pictured below in action:
While giving testimony of the sighting...
Relaxing after a satisying day's work...
So Ramadhan Mubarak before I leave you with the final picture of this blog!